The BORMIAMED Group is committed to distribute the highest quality medical devices and to provide exceptional customer service support. To achieve these goals, our Quality Management System is based on the principle of continuous service and process improvement. All requirements of standard
ISO 9001:2015
are sensibly applied in our Group as we are focused on delivering the very best service while maintaining best practices.
In carrying out our mission, we recognize and monitor needs and interests of our stakeholders. In this way, we support good relationships at strategic and operational levels. Our Group-wide commitment (from manufacturer to final user of medical devices) enables us to ensure that we meet and exceed our quality goals while providing innovative and dependable service that our partners can trust. We are committed to continuously improve and encourage development at all levels, create wider economic and social effects, create a friendly and orderly working environment for our employees, increase the quality of our services and the offer of distributed goods.
With the distribution of innovative products and continuous improvement of our processes we contribute to fighting against climate change and lowering a global carbon footprint. Through teamwork and perseverance, we are making better conditions for the entirety of the BORMIAMED group, our community, our partners, and our beautiful planet. We strive to improve the environmental aspects of business, economic management and rational use of energy, raw materials, and other natural resources.

We are proud to announce that our companies are awarded with following certificates: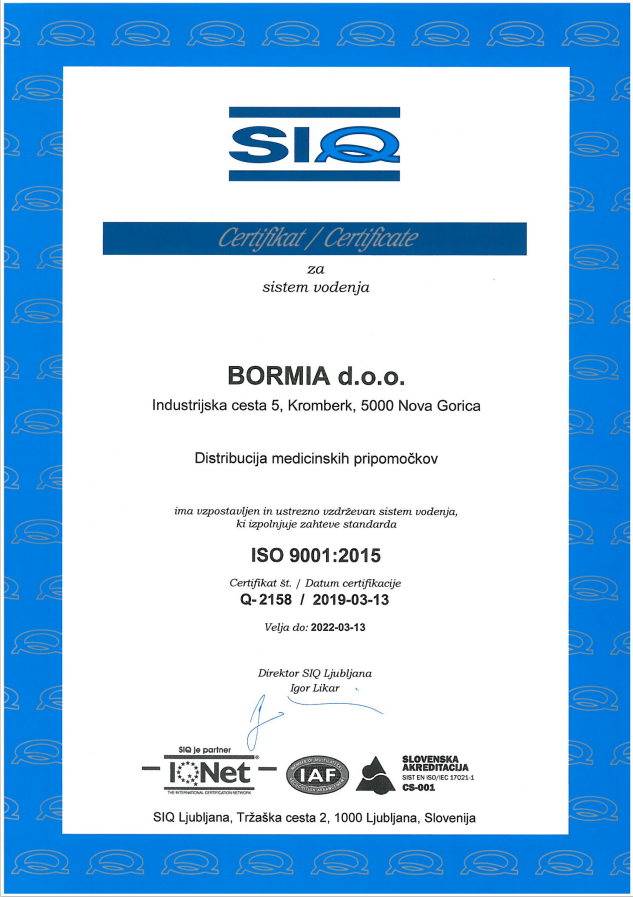 - BORMIA d.o.o.(SLO) - ISO 9001:2015
The BORMIAMED Group consists of responsible and reliable companies that are consistently adhering to the legislation, their employees, their customers, their suppliers, and their other business partners, to the social and natural environment in which they operate, and to other stakeholders who in various ways establish a relationship with them and our group. In our work we are committed to tolerance, mutual respect, and respect for fundamental human rights, while promoting fair and ethical conduct and business. For this purpose, the BORMIAMED Group has adopted a document that testifies to our ethical conduct and behaviour and with which we successfully build the reputation of the group. Obligations, as derived from our Code of Ethical Business Practice, represent an integral part of the obligations of all the BORMIAMED Group employees. At the BORMIAMED Group we are constantly strengthening and protecting the ethical foundations of our business to protect our core values.
Our business success is based on economic rationality, constant development, and integration into the natural and social environment. We remain faithful to the highest quality standards. We strive to reduce the negative impact on the environment, improve the working climate, and invest in the individual as an important link in the chain of success and customer loyalty.
For socially responsible operations we take care through various activities that trigger changes directly in employees, customers and indirectly in the wider society. Through education, respect for the principles of certain standards and norms, we achieve that employees acquire the knowledge necessary for the independent implementation of sustainable activities in business.
For us, social responsibility means not only a competitive advantage, but also one of the elements of the further development of the BORMIAMED Group and our every employee as an individual and an important part of our group. In the last year, we have been intensively implementing activities and projects aimed at the long-term well-being of employees, the environment, our customers, and the community.
We are proud to announce that our core company BORMIA d.o.o. has been awarded a
Socially Responsible Employer Accession Certificate.